The 'Fit for 55' package must be taken into account by companies interested in investing in Europe as well as by those already based in Europe; these measures will change the financial and business plans of companies from different sectors.
– Gonzalo Olivera, Partner, regulated sector expert, Madrid
Running to almost 4000 pages – more than three times the length of Tolstoy's War and Peace - the European Commission's highly anticipated 'Fit for 55' package handed to the European Parliament and Council on July 14 is set to accelerate transformations across the EU's economy.
The comprehensive toolbox is pitched as a 'fair, cost effective and competitive way' to cut the European Union's net emissions by at least 55% by 2030 and to net zero by 2050. Interconnected proposals include boosting renewable energy to 42% of the total mix, bringing currently-exempt maritime and aviation sectors into the emissions trading system, increasing the tax on 'dirty' fuels and – controversially – making the rest of the world accountable by applying a new carbon price on imports.
Pressure is now on the European Parliament and Council to negotiate and agree, resulting in binding laws. Each regulation attracts its own process and can be approved separately. 
It is hard to know how long the process will take but the ultimate deadline for agreement is the May 2024 European Parliament elections.  Businesses may face binding policies much sooner: each Member State can approve legislation regarding the goals to be achieved through the Fit-for-55 package; a step Spain has already taken.
Even though the finish line is 30 years away, the race starts now.
– Ursula Von Der Leyen, President of the European Commission
The climate-neutrality targets and tools are globally unprecedented in scope and effect.
Transforming industries from the sky to the sea

Carbon pricing would take centre stage in efforts to transform industries. Maritime and aviation sectors would lose free emissions allowances: maritime businesses seeing the impost phased in from 2023 to 2025 and aviation operators by 2026.
An ambitious target would face businesses in every sector covered by the expanded Emissions Trading System: that target being to cut emissions by 61% compared to 2005 levels. For road transport and building emissions the burden will fall at the top of the supply chain with fuel suppliers facing a separate trading system from 2026 rather than households and road users. Production processes more generally would face pressure to decarbonize, mainly by the uptake of new technologies.
Driving down air pollution from cars, vans, trucks, planes and boats
Transport comprises almost a quarter of EU's greenhouse gas emissions, giving it the unenviable title as the main cause of air pollution in cities. This powerful statistic is behind proposals backing cleaner vehicles and fuels, including via mandatory targets to set up alternative fuel infrastructure for recharging and refuelling. The measures are technologically neutral way. A pathway towards zero-emission mobility is paved via revised CO2 emissions standards for new cars and vans, further slashing the greenhouse gas emissions of these vehicles.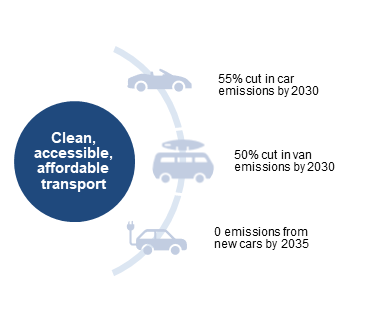 Sustainable fuels would get a boost in the aviation and maritime sectors because polluting fuels will have the added cost of the carbon tax. Specific measures also play a role, such as requirements for fuel suppliers to blend more sustainable fuels into existing jet fuel at airports.
Boost in renewable energy sources including clean hydrogen
Central to the EU's climate ambitions is an increase in the overall binding target from the current 32% to a new level of 40% of renewables in the EU energy mix; complemented by indicative national contributions showing what each Member State should contribute to reach the collective target.
Three quarters of EU emissions derive from energy use. Other measures in a revised Renewable Energy Directive would promote the uptake of renewable fuels such as clean hydrogen in sectors such as industry and transport.
Clean hydrogen is a real alternative for reducing emissions and achieving the applicable climate change mitigation goals
– Gonzalo Olivera, Partner
Higher tax on 'dirty' fuels to encourage a shift
Cascading rates of tax on fuels based on their relative cleanliness, or lack thereof, would promote an uptake in sustainable and renewable fuels
The rates would apply to fuel used in heating and transportation, aligned with the objectives set out in the landmark European Green Deal. Critical to the compact is the support of vulnerable citizens and mitigation of the social impact.
Protecting biodiversity and removing 310 million tonnes of carbon dioxide
In a more ambitious approach to sucking carbon from the atmosphere and reversing the emissions trend, the EU would aim to remove 310 million tonnes equivalent by 2030 in an updated Land Use, Land Use Change and Forestry Regulation (LULUCF).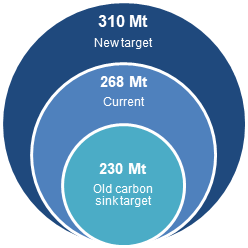 The heroes of the effort are the EU's forests and other natural carbon sinks, with measures to improve quality and quantity. Restrictions would limit the use of new timber as a biofuel and enlarge no-go areas. National support schemes would encourage using old timber for fuel: the 'cascading principle' would prioritise using wood for value-added non-fuel purposes first, burning it for energy only after it has been re-used and recycled wherever possible. Bioenergy is projected to decline between 2030 and 2050, from its current spot dominating renewable energy as 60% of the mix.
The quest for global action and the fight against "carbon leakage"
There are real fears businesses will simply shift production to countries with less stringent settings, leaving the world's total emissions unchanged. These fears are behind perhaps the most controversial measure: the new Carbon Border Adjustment Mechanism (CABM) which would put a carbon price on imports of a targeted selection of products from 2023.
Initially it would cover five sectors: iron and steel, aluminium, cement, fertilisers and electricity. The grand hope is not only to plug carbon leakage, but to encourage industry outside the EU to take steps in the same direction.
Warming up for the race: What next?
The package is not a fait accompli. The 27 EU Member States and the European Parliament must negotiate and – critically – agree. Only then will they have a binding effect on Member States. The Commission has urged "swift" action and the treatment as a 'coherent' package but politics may dictate a different outcome.
Spain emerges as a first-mover… but more is needed
Spain recently approved its first Law on Climate Change and Energetic Transition (Law 7/2021, of 20 May).
In general terms, this Law is consistent with its commitments at an international and European level. However, modifications are necessary; in particular, to increase the greenhouse gas emissions target considering that the purpose of the Law is reducing greenhouse gases emissions by 23%, compared to 1990 levels, by 2030.

Nonetheless, the measures mark Spain as an early mover and are in line with those in Fit for 55, including cutting emissions, boosting renewables, cutting energy consumption and making the electricity system exclusively based on renewables (see article 3 of the Spanish Law on Climate Change and Energetic Transition).