Written by Mark Beaufoy and Bridget Phelan
After a delayed start due to Covid-19 lockdowns and disruption in 2020, the Environment Protection Amendment Act 2018 (new Act) is commencing on 1 July 2021.
Once the amendment Act commences it will amend and be included in the existing Environment Protection Act 2017. It will then be known and referred to as the 2017 Act.  
Many companies with operations or properties in Victoria will already be prepared, or will be well underway preparing, for the new legislation. The new Act will affect all sectors. EPA has prepared guidance for different industry sectors as follows – agriculture; construction and infrastructure; energy, petroleum and extractive industries; manufacturing; planning; retail and small business; waste and recycling; and water. EPA has also produced a set of guidance to explain and support compliance with the new Act for each of these sectors.
The level of exposure, preparation and compliance required will depend on the nature of your company's operations and the associated environmental risks and hazards associated with pollution and waste. The new Act includes a range of new EPA enforcement powers, community rights, civil and criminal penalties (with maximum penalties for a corporation for aggravated offences up to $3.3M and $1.6M for other offences) – we have covered these in our earlier updates.
This update references and builds on our earlier updates and provides a reminder of three priority areas of focus required under the new Act and a summary of the most recent significant guidance publications from EPA Victoria. EPA has recently upgraded its website and (while still a little difficult to navigate) includes a useful section on the new laws with links to the guidance referred to in this update.
A shift in focus - proactive not reactive
As we have emphasised in our earlier updates, the new Act is focused on managing and preventing the risk of harm to human health and the environment from pollution and waste through positive duties and prevention mechanisms. This is a shift away from the more reactive protection and prohibitive measures of the current Environment Protection Act 1970.
This new focus requires preparation and proactive compliance. A duty holder can contravene the legislation without actually causing pollution or mishandling waste by failing to have proper environmental management systems or plans in place.
As EPA states in its new draft Compliance and Enforcement Policy:
Those who hold a duty under the EP Act may be subject to inspections by EPA authorised officers, in accordance with their powers under the Act. EPA may take action even if harm has not yet occurred, and responsibility for preventing harm rests with anyone in management or control of the activity that may give rise to risks of harm. 
In considering its approach to enforcement under the new Act, the EPA will consider the characteristics of the duty holder. For example, section 3.3.2 of the draft Compliance and Enforcement Policy states that the EPA will consider the attitude, behaviour and actions of the duty holder when assessing the degree of culpability associated with non-compliance, specifically, whether the duty holder has:
proactively identified risks and implemented controls to minimise those risks
sought out and referred to industry and EPA guidance when they are unsure of how to manage risks
notified EPA and acted to contain pollution, as soon as they are aware of an incident
cooperated with EPA authorised officers during any inspections or investigations
fully complied with directions and notices and promptly advised EPA of any issues that impeded compliance
In the attached document we have provided further detail on the key transitional provisions that will apply on commencement of the new Act and what you should be doing now in focussing on the three priority areas, these being:
Environment protection duties (GED, pollution and contaminated land);
Waste duties; and
Permissions.
Guidance publications
The EPA has been releasing a large number of guidance documents across different topics and sectors to assist companies in understanding their obligations and duties under the new Act. The most significant recent guidance are in the table in the Annexure of the downloadable document.
Next Steps
With the commencement of the new Act having been delayed for around 12 months, we expect the EPA will take the view that businesses will have no excuse for not being ready.
The EPA is running a number of webinars on the new legislation (the recordings and papers of these seminars are included on their website). KWM is preparing a comprehensive guide on the new Act and associated regulations and guidance which we will share with our clients. We continue to run tailored workshops based on individual client needs and intend to run a number of sector-based workshops for clients later in the year after the commencement of the new Act. If you would like to register to receive the guide, arrange an individual workshop or attend one of our future sector workshops, please get in touch.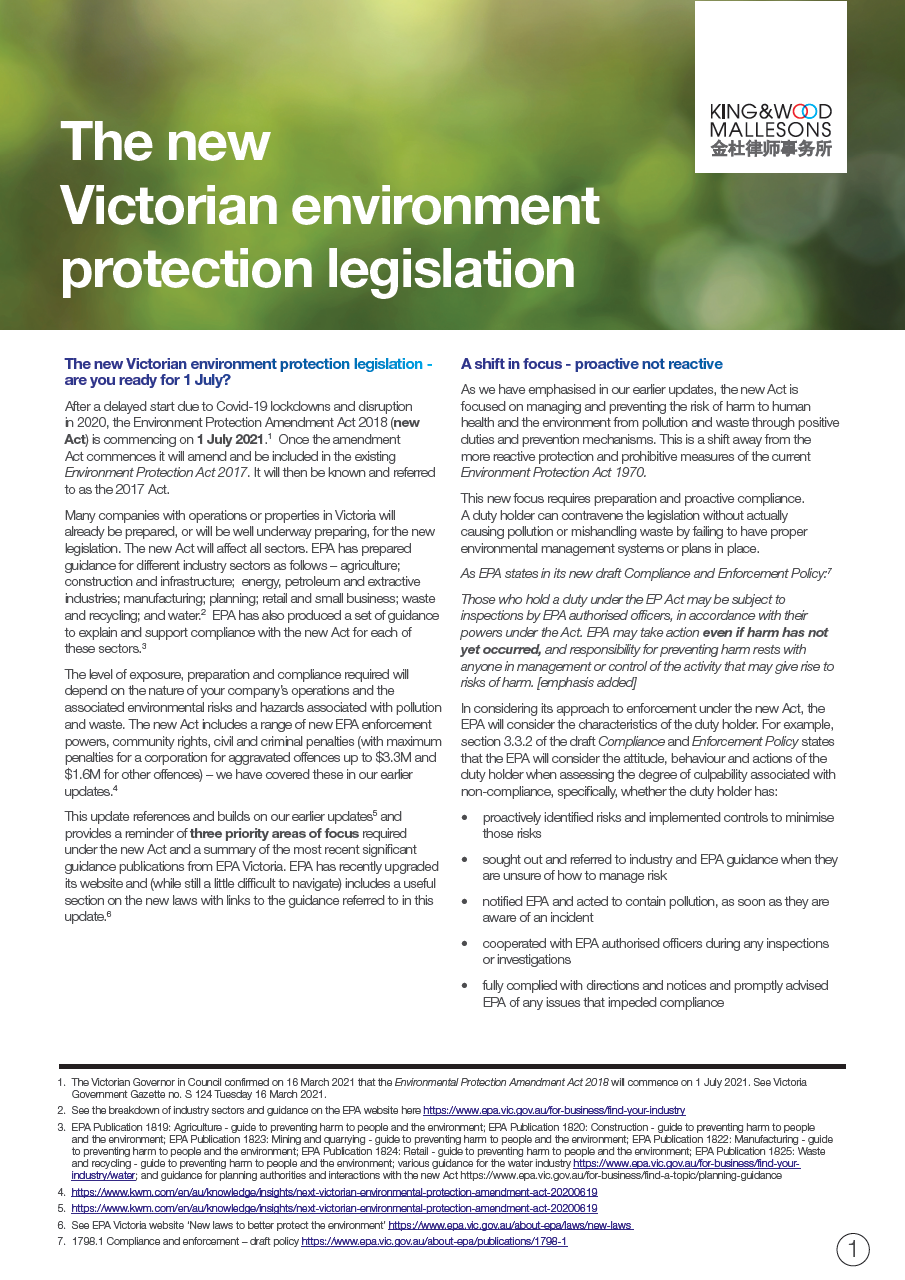 Download
The new Victorian environment protection legislation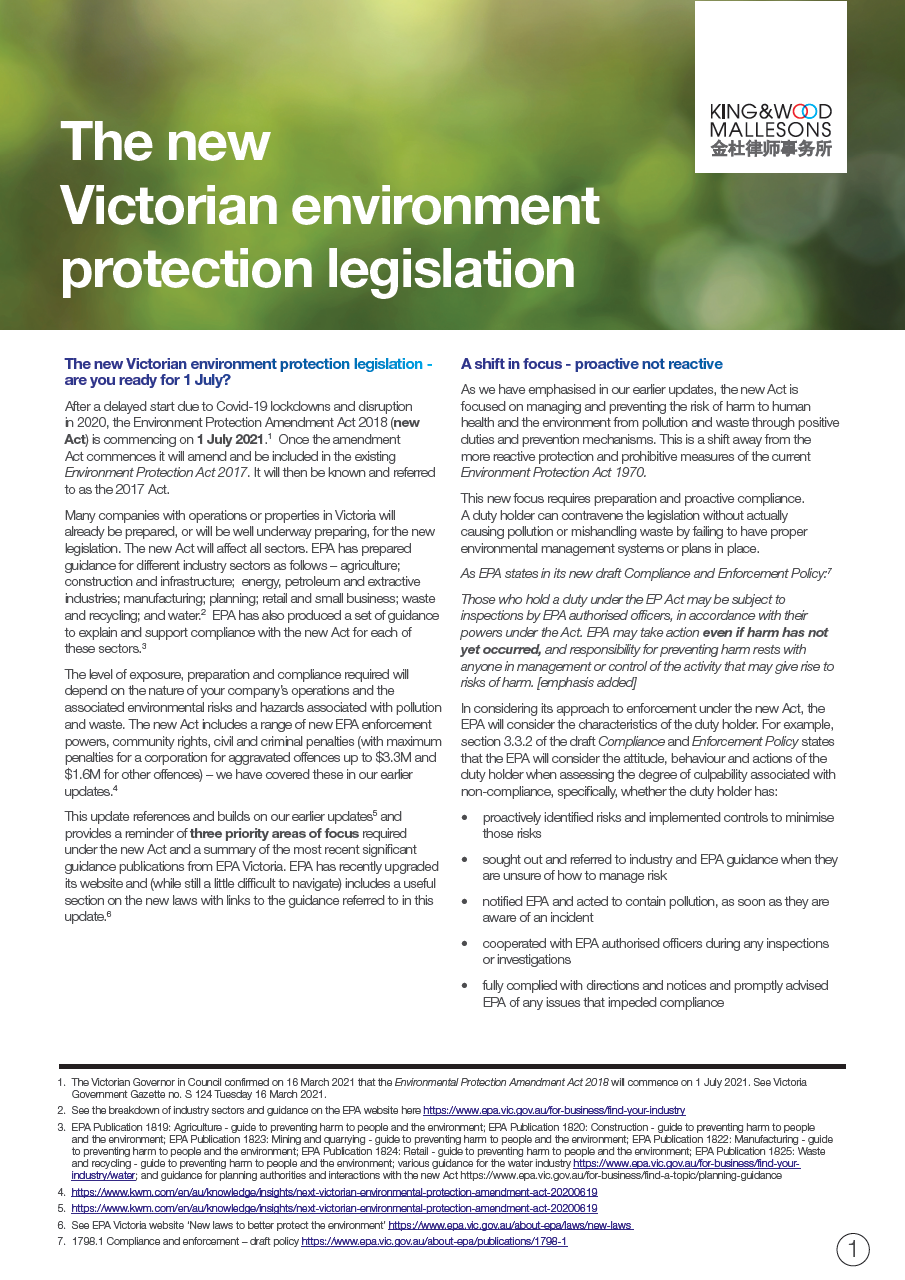 Are you ready for 1 July?