This article was written by Scott Singleton, Debra Townsend and Ruth Dawes.
In February 2018, the NSW Office of Environment and Heritage released the long-awaited draft Aboriginal Cultural Heritage Bill (Draft ACH Bill) for public consultation. The opportunity to comment on this important legislative development closes on Friday 20 April 2018.
This is the next step in the development of standalone legislation governing Aboriginal cultural heritage in NSW. It is an important development for everyone who is involved in activities that may cause disturbance to land and waters in NSW, and will have significant implications for project approvals and compliance.
Offences
The Draft ACH Bill retains similar offence provisions to those presently applicable to harm to Aboriginal cultural heritage. However, penalties for causing harm are proposed to now range up to a fine of $1,650,000 for a corporation and $330,000 and/or imprisonment for 1 year for an individual, as well as additional daily penalties.
Importantly, offences may also extend personally to directors or managers of companies where the director or manager knows or ought to reasonably know the offence would be or is being committed, and that person fails to take all reasonable steps to prevent the office taking place.
Defences will now include acting in accordance with an ACH management plan. Aboriginal heritage impact permits will not be available under the new regime.
ACH Authority
The Draft ACH Bill proposes to establish an ACH Authority and Local ACH Consultation Panels. The ACH Authority will have a board of 13 Aboriginal people as members and will have broad powers, including:
The preparation, for approval by the Minister, of ACH Maps, and an "ACHAP Code of Practice" which will apply to the assessment of whether proposed activities will harm Aboriginal cultural heritage.
Recommendations to the Minister for declarations of Aboriginal cultural heritage.
Establishment of the ACH information system.
Appointment of Local ACH Consultation Panels.
Approving ACH strategic plans prepared by Local ACH Consultation Panels.
Issuing stop work orders and remediation orders (which are binding even in circumstances where a person has not been proceeded against or convicted of an offence).
Entering into ACH conservation agreements with landowners, which may provide for the restriction of development on land.
Aboriginal cultural heritage assessment pathway
The proposed Aboriginal cultural heritage assessment pathway is similar to the due diligence defence arrangements in place under the existing regime. The following stages of assessment, to be carried out in accordance with the ACHAP Code of Practice, apply: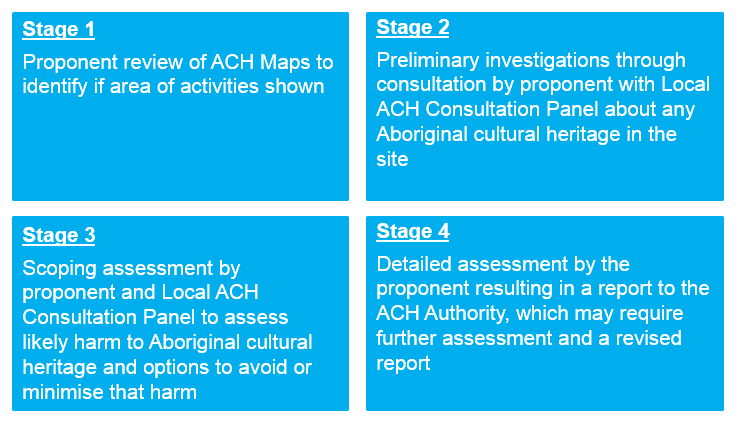 These steps must be completed before an application for development consent may be made. If this assessment process identifies that Aboriginal cultural heritage will be harmed by a development, the application for a development consent must be accompanied by an approved ACH management plan, or a draft ACH management plan if one has not been agreed and the review or appeal process is underway.
ACH management plans
The proposed process for negotiating an ACH management plan is:

Transitional provisions
The Draft ACH Bill does not presently set out the details of how project proponents who have commenced processes under the existing Aboriginal cultural heritage regime will be affected.
Submissions
The Draft ACH Bill proposes significant change to Aboriginal cultural heritage protection arrangements in NSW. It will require project proponents to revisit their approaches to Aboriginal cultural heritage to ensure processes are compliant going forwards, to put in place arrangements to avoid committing offences under the legislation. It will also require proponents to incorporate additional stakeholder engagement as part of their project development and approvals, and factor additional time into their approach to accommodate the new processes required.
Please contact us if you would like to discuss the Draft ACH Bill further or would like assistance in the preparation of a submission. Further details, including methods to make a submission, are available at http://www.environment.nsw.gov.au/topics/aboriginal-cultural-heritage/legislation/draft-aboriginal-cultural-heritage-legislation-2017-consultation/public-information-sessions