This article was written by Sarah Yu and Tracey Yeung
ASIC has released a new regulatory guide on internal dispute resolution (IDR) for Australian financial services licensees and other financial firms: Regulatory Guide 271 - Internal dispute resolution (RG271).
A legislative instrument sets out the enforceable IDR requirements and standards.[1] These apply to complaints received by financial firms on or after 5 October 2021.
All Australian financial services licensees will have a new duty under section 912A of the Corporations Act 2001 (Cth) (Corporations Act) to comply with their internal dispute resolution procedure that must comply with the enforceable IDR requirements and standards. Similarly, all credit licensees must have an IDR procedure that complies with the enforceable IDR requirements and standards and comply with their IDR procedure.
The new regulatory guide also contains enforceable requirements relevant to the governance, with many references to responsibilities ASIC expects to be undertaken by the Board.
1. IDR responses and timeframes
1.1. Acknowledgment of complaint
ASIC expects a financial firm to acknowledge the receipt of a complaint within 24 hours, one business day or as soon as practicable of receiving it.
1.2. What an IDR response must contain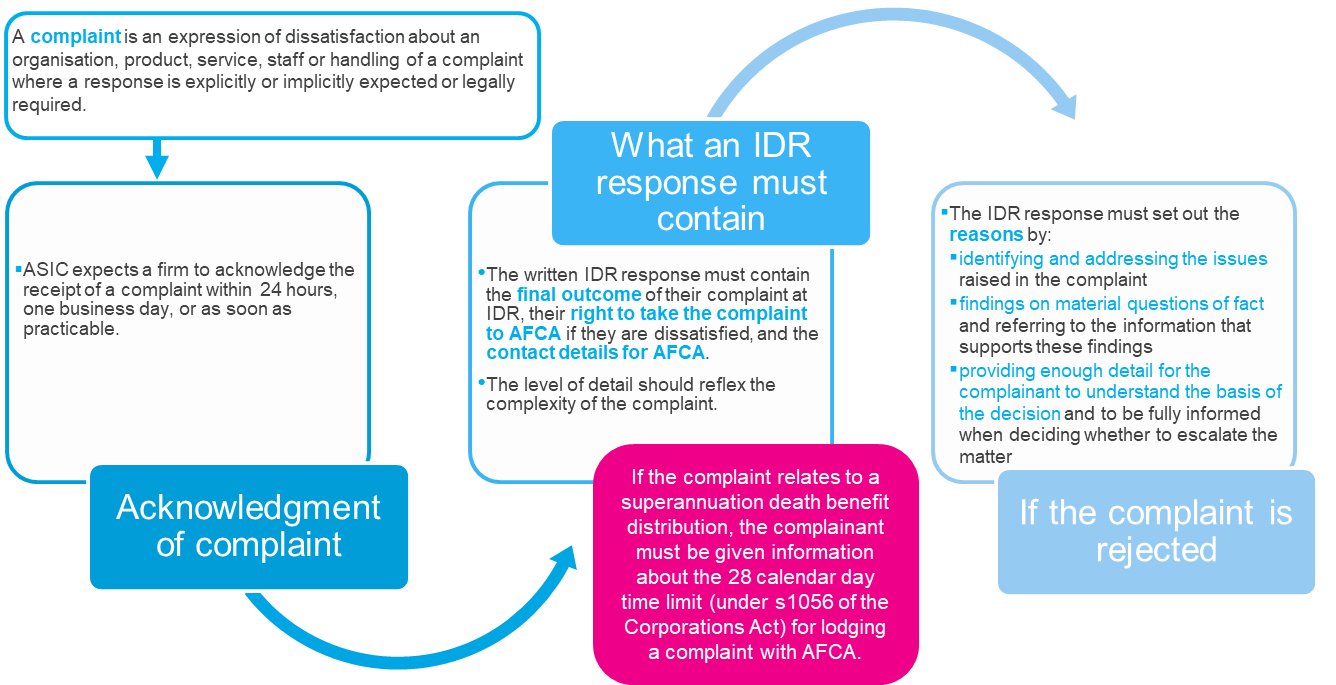 1.3. Maximum IDR timeframes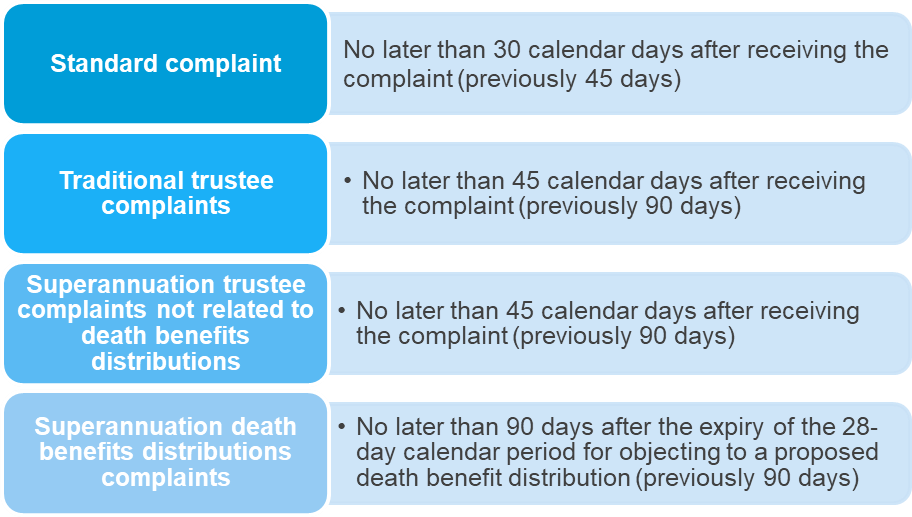 1.4. Complaint management delays – exceptions to the maximum IDR timeframe requirements
There is an exception to the maximum IDR timeframe requirements when:
There is no reasonable opportunity to provide the IDR response within the relevant timeframe because the resolution is particularly complex; or
There are circumstances beyond the firm's control that are causing complaint management delays.
Before the relevant maximum IDR timeframe expires, the firm must give the complainant an 'IDR delay notification' that informs the complainant about:
the reasons for the delay;
their right to complain to AFCA if they are dissatisfied; and
the contact details for AFCA.
1.5. Small business
The definition of small business in the Corporations Act has been aligned with the with Australian Financial Complaints Authority rules so that generally a business with less than 100 employees at the time of the act or omission by the financial firm that gave rise to the complaint will be captured by the new IDR requirement.
2. Systemic Issues
Boards are required to set clear accountabilities for complaints handling functions, including management of systemic issues identified through consumer complaints. This should be considered when Boards are considering accountabilities in implementing the Financial Accountability Regime (when the relevant legislation is enacted).
Reports to the board and executive committees must include metrics and analysis of consumer complaints, including about systemic issues that have been identified.
Financial firms must:
encourage and enable staff to escalate possible systemic issues they identify from individual complaints;
regularly analyse complaint data sets to identify systemic issues;
promptly escalate possible systemic issues to appropriate areas within the firm for investigation and action; and
report internally on the outcome of investigations, including actions taken, in a timely manner.
3. IDR standards
ASIC has set out a number of IDR standards that cover the following areas:
The enforceable standards are noted in boxes below.
3.1. Commitment and culture
Financial firms must to develop and maintain a positive complaint management culture that welcomes and values complaints, with evidence of top-level commitment and a people focus expressed in the culture of the firm. The expected top-level commitment includes establishing and promoting a complaint management policy and procedure (see below).
3.2. Enabling complaints
The IDR process must be easy to understand and use, including by people with disability or language difficulties and free to complainants.
Information about how and where complaints may be made should be widely publicised by:

publishing a complaints policy online and making it available in hard copy or request;
including information about the IDR process in all product welcome packs; and
providing training to all staff (not just IDR staff).
3.3. Resourcing
It is an enforceable requirement that:
the IDR process must be resourced so that it operates fairly, effectively and efficiently and that this is regularly reviewed by the firm;
staffing numbers must be sufficient to deal with complaints in a fair and effective manner within the maximum IDR timeframes, including when there are intermittent spikes in complainant volume; and
relevant staff must be provided with appropriate authority to be able to resolve complaints and authorities for deciding complaints must facilitate the fair and efficient resolution of complaints.
ASIC expects staff who deal with complaints to have knowledge, skills and attributes needed to effectively perform their roles, which includes:

knowledge of RG271, consumer protection laws relating to financial products and services, AFCA approaches and relevant industry codes of practice;
an understanding of the products and services offered by the firm;
empathy, respect and courtesy;
awareness of cultural differences and the ability to identify and assist complainants who need additional assistance;
strong verbal and written communication skills; and
analytical thinking and good judgment.
3.4. Responsiveness
Firms must comply with the maximum IDR timeframes and ensure that the complaint resolution outcome is implemented in a timely manner.
In addition, ASIC expects that IDR processes should work efficiently and provide early resolution where possible, triaging complaints effectively, responding flexibly with a broad range of possible remedies.

3.5. Objectivity and fairness
ASIC expects firms to develop processes that ensure each complaint is managed fairly, objectively and without any actual or perceived bias.
3.6. Policy and procedures
Firms must have a publicly available, readily accessible complaints policy and an internal complaint management procedure.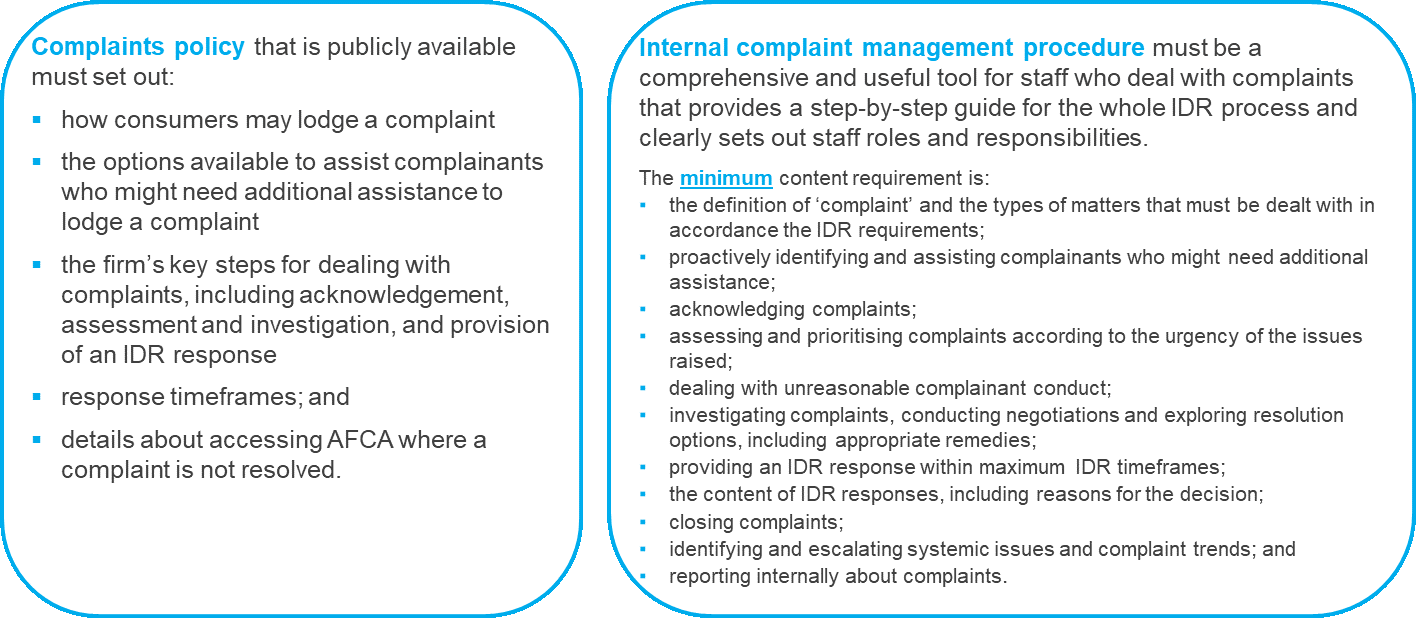 3.7. Data collection, analysis and internal reporting
Firms must have an effective system for recording information about complaints that enables the firm to track the process of each complaint. Reports about complaints data should be given regularly to senior management and the Board.
Firms must conduct ongoing data analysis and monitor the performance of the IDR processes. ASIC sets out the data that (at a minimum) it expects to be collected and analysed and reported to senior management and the Board.

ASIC also expects that a firm's annual report should report on complaints.
[1] ASIC Corporations, Credit and Superannuation (Internal Dispute Resolution) Instrument 2020/98.