Written by Meredith Paynter and Emma Newnham.
While many things slowed down due to the pandemic in 2020, focus on climate change and climate change risk disclosures and governance definitely heated up.
Overview
Our analysis shows ASX50 companies generally responded, with 2020 setting a new base line for climate change disclosures. Reporting against the recommendations of the Task Force on Climate-related Financial Disclosures (TCFD) is now the market standard among this group, with the Global Reporting Initiative (GRI) Standards and CDP (formerly the Carbon Disclosure Project) not far behind. Across the annual report and dedicated climate change and sustainability/ESG reports, many companies are providing significant detail on the climate change risks and opportunities they face, including using scenario analysis to assess the potential implications of those risks.
Most ASX50 companies have made measurable targets and commitments, and most disclose how they are tracking against those targets and commitments.
Climate change governance also received significant attention in 2020, with most ASX50 companies having taken steps to embed climate change in governance frameworks. Some of these companies have also introduced performance targets for executive remuneration tied to climate change, reviewed industry association memberships for alignment on climate change policies, and obtained assurance from assurance practitioners on their climate change disclosures.
There was, and will continue to be, investor and activist pressure to do more. 2020 saw a spate of shareholder requisitioned resolutions on climate change and 2021 is shaping up to be even more heated.
This increasing focus is consistent with our Directions 2021 survey results, which focused on policy priorities for prosperity and growth, and demonstrated that respondents were comparatively more focused on ESG issues, including climate risks, compared to our survey results from prior years.
We also asked survey respondents to rate (on a scale of 1 – 10) the importance to business of the Federal Government implementing a policy (which includes transitional targets) to reach net zero emissions by 2050, and over 60% rated the importance of the issue at 7 or higher. As highlighted in Directions 2021, this indicates that there is strong support in the corporate sector for a nationwide commitment to carbon reduction commitments, consistent with actions being taken by many Australian corporates to achieve levels of carbon neutrality at either an organisation or product level. We also predicted that there would be more scrutiny of carbon neutrality claims as their importance increases and they become a business differentiator.
Our key observations of climate change disclosures and governance of the ASX50 in 2020 are set out in this article. We've also included some commentary on developments so far in 2021, as well as some predictions for what may lie ahead.
More detail is set out in our full report below.
More detail regarding our Directions 2021 survey results is set out in Directions 2021 – Your Reform Agenda.
Widespread voluntary reporting against global frameworks
The majority of the ASX50 companies (82%) reported against the TCFD recommendations in 2020, with a further 4% considering reporting against the TCFD recommendations in future.
The majority also reported in accordance with one or more other voluntary frameworks or standards including the GRI Standards, the CDP, the <IR> Framework of the International Integrated Reporting Council (IIRC) and the Sustainability Accounting Standards Board (SASBs) Standards.
From the second half of 2020 there has been significant movement towards a single global standard for climate change reporting. The International Financial Reporting Standards (IFRS) Foundation is trying to establish an international sustainability reporting standards board. That board would initially focus on climate-related reporting and build on the work of the TCFD, as well as considering a prototype climate-related financial disclosure standard proposed by a collaboration of five global framework- and standard-setters (including the GRI, CDP, IIRC and SASB).

Most include disclosures on climate change risks in their operating and financial review (OFR), but disclosures vary significantly
While the majority of ASX50 companies (82%) are disclosing climate change risk in their OFR in their annual report, the extent of this disclosure varies significantly. We may start to see some more consistency going forward as companies refine their disclosures, including to address the results of ASIC's surveillance, APRA's vulnerability assessments and other initiatives.
Majority are undertaking scenario analysis
The majority of ASX50 companies (74%) used scenario analysis to assess the potential implications of climate change risks. A variety of different scenarios were used, and there are differences of opinion as to which are the most appropriate. Some companies faced questions, including at their 2020 AGMs, on their choice and disclosure of scenarios.
Growing number of targets and commitments
64% of ASX50 companies had made public measurable commitments in relation to climate change in 2020. Those that had made measurable commitments and targets generally included some disclosure on how they are tracking against their commitments and targets.
Already in 2021 we're seeing these numbers increase, with Coles Group committing to deliver net zero emissions by 2050 and Santos introducing new emissions reduction targets just prior to its AGM in April.
While these percentages may seem impressive, a number of these sorts of targets and commitments have been criticised in the media and other forums, including in shareholder statements accompanying requisitioned resolutions. The criticism largely focuses on whether the targets and commitments are scientifically backed to achieve the aims of the Paris Agreement. Few ASX50 companies (only 4) had their targets validated by the 'Science Based Targets' initiative in 2020. There are also differences in terminology (for example, net zero emissions v carbon neutrality) which are not necessarily well understood.
Oversight of climate change risk is reflected in governance frameworks
The benchmark that directors will be held to in relation to climate change risk is rising. Australian regulators have publicly stated they are monitoring climate change disclosure and recent climate change related litigation has sought to test the boundaries of liability and change corporate and institutional behaviour in relation to climate risk. Recently published legal opinions also highlight the risks in relation to climate change and disclosure for directors, including remarks by The Hon Kenneth Hayne AC QC to the Centre for Policy Development's Business Roundtable on Climate and Sustainability and a series of opinions by barristers Noel Hutley SC and Sebastian Hartford Davis.
Most ASX50 companies have reflected oversight of climate change risk in their governance frameworks. Some examples include expressly referencing responsibility for climate change risk in the board charter, involving board risk and audit committees in considering and monitoring climate-related matters, establishing climate change working groups and steering committees and creating executive roles focused on climate change or sustainability matters.
Companies linking executive remuneration to climate change
Shareholder requisitioned resolutions have called for links between executive remuneration and climate change targets for years. Some companies have taken steps to accommodate this. In 2020, 30% of ASX50 companies linked some elements of executive remuneration to climate change measures, with a further 10% linked to sustainability measures.
As with all things remuneration, you can't please everyone. Some proxy advisers objected to such measures on the basis that achieving climate change targets should be part of an executive's "day job" and shouldn't warrant a bonus. It may well be that some shareholders have expressed similar views privately.
The majority of the companies that link executive remuneration to climate change are in the materials, energy, real estate and financials GICS industry sectors. This was consistent with a number of other data points in our analysis, which tended to be skewed towards these sectors. These sectors are significantly represented in the ASX50.
Industry associations coming under pressure to align on climate change
Likewise shareholder requisitioned resolutions at AGMs have been calling for several years for companies to review and report on industry associations' alignment on climate change issues.
In 2020, 40% of ASX50 companies disclosed their approach to industry associations in relation to climate change.
2020 also saw BHP and Origin Energy suspend their membership of the Queensland Resources Council over the Council's "vote Greens last" campaign.
Assurance on climate change disclosures being obtained
52% of ASX50 companies obtained assurance on their climate change disclosures in 2020, such as scope 1 and 2 emissions data. In each case this assurance was provided by one of the big 4 accounting firms.
Higher levels of support for climate change resolutions
Activists continued to make full use of their ability to requisition climate change resolutions at AGMs in 2020. These continued to take the form of a proposed amendment to a company's constitution followed by an advisory resolution contingent on the constitutional amendment being carried.
In 2020, 9 companies received requisitions for climate change resolutions and put them to the AGM. No climate change resolutions were carried in 2020. The average support vote for constitutional amendments among this cohort was just under 8%. But the level of shareholder support for the contingent climate change resolution was much higher – at just over 32%. In particular, the highest shareholder vote in favour of a climate change resolution was just over 50% – if formally put to the meeting, that resolution may well have passed.
The vote on these climate change resolutions sends an important signal to boards that climate change issues are important to shareholders. It may be partly in response to that sentiment that several boards in 2021 have begun to support climate change resolutions. We're seeing this in two ways. First, through boards adopting the "Say on Climate" initiative, and agreeing to give shareholders a vote on their climate change reports at their 2022 AGM. Following the announcement of this, the relevant requisitioned resolution is typically withdrawn. And secondly, through board support for climate change resolutions that will be put to shareholder vote at the 2021 AGM.
Our dataset
In reviewing our data for 2020 we looked at annual reports, climate change reports and sustainability/ESG reports released in 2020 and other readily accessible publicly available information for companies that were in the S&P/ASX 50 as at 5 February 2021.
More detail on our dataset is set out in our report.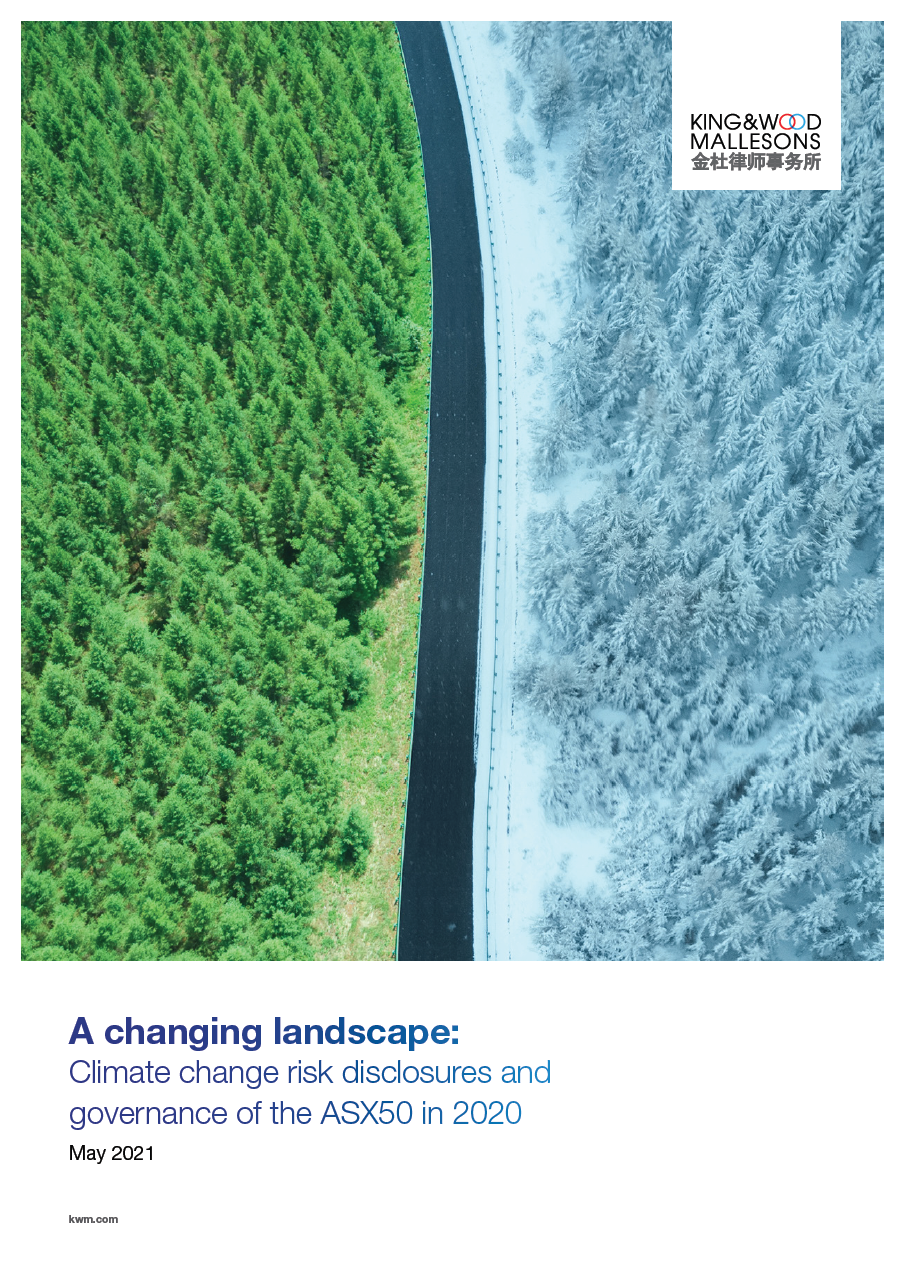 DOWNLOAD
A changing landscape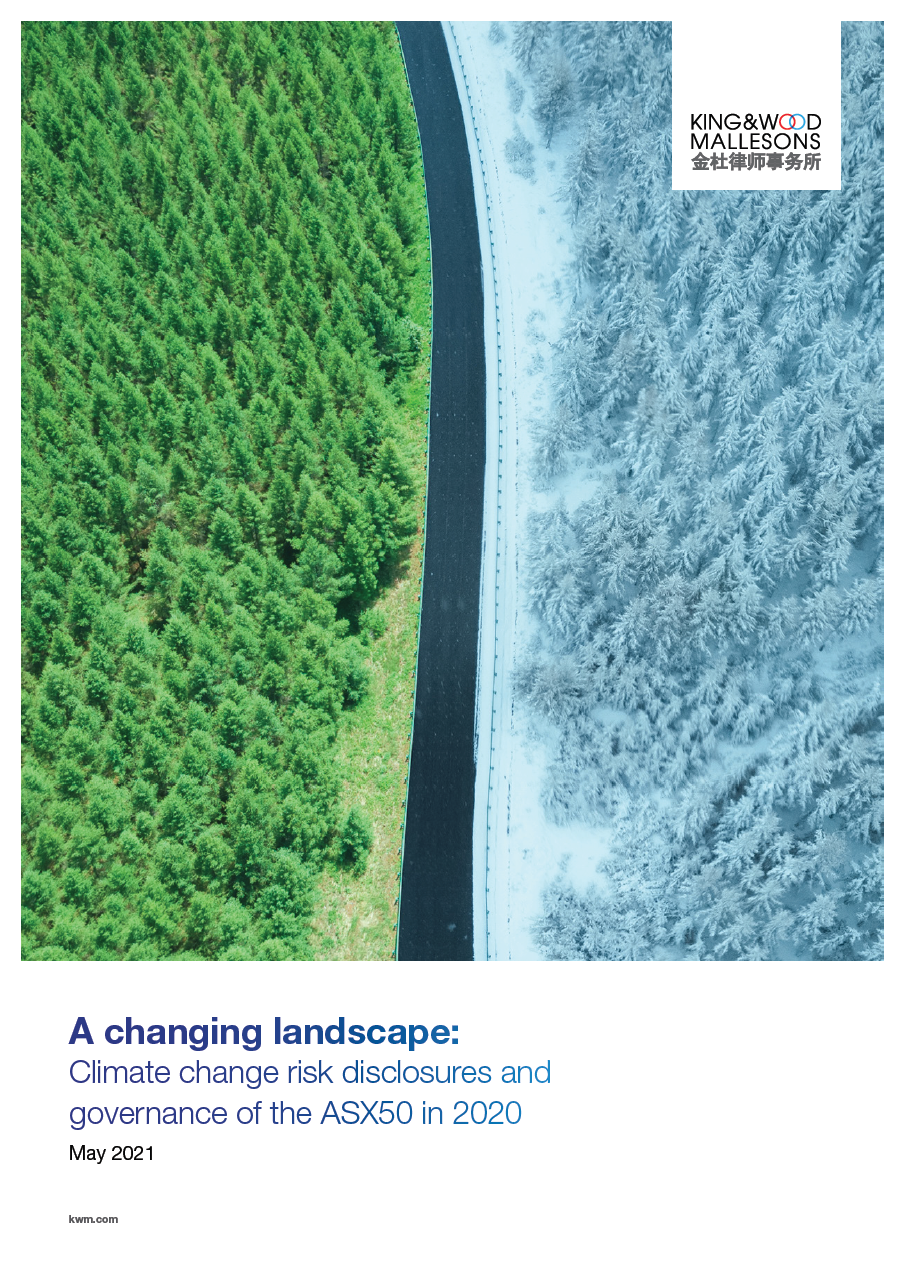 Climate change risk disclosures and governance of the ASX50 in 2020
Download
2.19MB, 23 Pages