This article was written by Monique Carroll. 

The Australian Government has introduced into parliament legislation which proposes to make Australian companies liable for bribery of foreign public officials undertaken by the company's agents or 'associates' anywhere in the world.  The proposed law is expected to pass through Parliament this year and to have a significant impact on the way in which Australian companies are held liable for bribery occurring off-shore.
Important provisions of the proposed law
The key changes1 proposed include:
A new offence making a company liable for bribery of foreign public officials conducted by its 'associates' for the profit or gain of the company even if the conduct occurred outside of Australia. 

Defining 'associates' to include officers, employees, agents and contractors of an Australian company, a person or entity who performs services for or on behalf of the company and all subsidiaries and controlled entities (as defined by the Corporations Act 2001). 

Placing the burden of proof on companies to establish the only available defence - that it had in place 'adequate procedures' designed to prevent its associates bribing foreign public officials.
What are the implications for agribusinesses?
The sale of agricultural commodities is certainly not immune to the potential for bribery and corruption - the AWB oil for food case is perhaps the best known example in Australia, involving the sale of grain to Iraq. 

Factors which make agribusinesses vulnerable to bribery of foreign public officials (including foreign governments and state owned corporations, public international organisations such as the UN and their representatives) include: international distribution networks; the use of third parties in off-shore jurisdictions to facilitate trade (including shipping and import / export agents) and government contracting.  For example, it is not uncommon for an agent or distributor receiving commissions for sales of a product, to use without the seller's knowledge, part of the commission to secure the sales contract.

Under current laws, Australian companies are only liable for such acts if they are committed by the company's employee or agent within its scope of authority and if the prosecution can prove that the company expressly or impliedly authorised the bribery.  Under the proposed new laws, however, Australian companies will be liable for such bribery, even if they did not expressly authorise it and were not aware of it, unless the company can prove that it had in place 'adequate procedures' designed to prevent bribery of foreign public officials by its associates.
What are adequate procedures?
In due course, the new legislation will require the Minister to release guidance on what constitutes 'adequate procedures'.  

Analogous guidance delivered in the United Kingdom outlines six principles for developing adequate procedures: proportionality, top level commitment, periodic and informed risk assessment, due diligence, communication & training and monitoring & review.  Our experience shows that particular on going focus on the monitoring and review components is required for a company to successfully implement procedure that can have any prospect of preventing bribery and corruption.

In light of these guiding principles and the expansive scope of the new law, we recommend: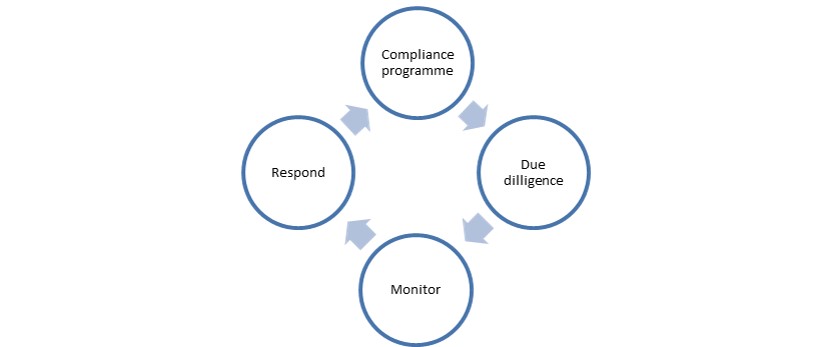 A tailored and reliable compliance programme directed to a company's associates. You need to understand your company's distribution network and what your 'associates' are doing at quite a granular level and tailor your compliance programme accordingly. 

Robust due diligence capabilities and procedures that are industry specific. Make sure that you understand the compliance issues in your specific industry and jurisdictions – don't assume that the way you do business in Australia will be accepted and legal in every jurisdiction. Also, gather as much knowledge as possible about your associates and their risk profile and keep this information current.

Monitor & respond. Implement systems to identify compliance 'red flags' for escalation and investigation.  If non-compliance has in fact occurred, consider what this means for the adequacy of your compliance programme and due diligence procedures and if any changes should be implemented. Additionally, consider if any regulators should be informed of the non-compliance. To this end we recommend that you develop an 'investigations' and 'crisis management plan' directed towards ascertaining the relevant facts as quickly as possible and responding to regulators in relevant jurisdictions.
King & Wood Mallesons can assist you with all of these risk mitigation steps which will be the beginnings of your 'adequate procedures'. If you have any questions or would like further information, please contact King & Wood Mallesons. 
---
1 For greater detail on the full range of proposed changes, please see http://www.kwm.com/en/au/knowledge/insights/australia-tightens-belt-anti-bribery-corruption-20171213.