A paradigm shift is underway in Australian corporate restructuring.
Bold reforms are already in force which have changed the landscape for companies, their directors, creditors and other stakeholders.
From 1 July 2018, termination and other rights against companies in administration and other restructuring-related procedures will be unenforceable under the ipso facto reform. 
Regulations are expected to have significant effect on the scope of the stay – these regulations are yet to be published.
This is a key issue for everyone signing up to contracts with Australian companies from 1 July 2018.
Where are we now?
Safe harbour is law. We are seeing the early impacts of safe harbour in Australian boardrooms. Anecdotally, directors have focussed on seeking professional advice and are developing plans to try to satisfy the "better outcome" test.
Counterparties' termination and other rights arising on voluntary administration, schemes to avoid insolvent liquidation or significant receiverships will be unenforceable under the ipso facto reform. 
This is expected to give Australian companies greater control over their trading during these procedures, encourage trade-on restructurings and preserve the enterprise as a going concern.
Anecdotally, counterparties are considering amendments to contracts to protect their rights. These require careful consideration – the broad anti-avoidance provisions apply to arrangements "in substance contrary" to the stay.
Where to next?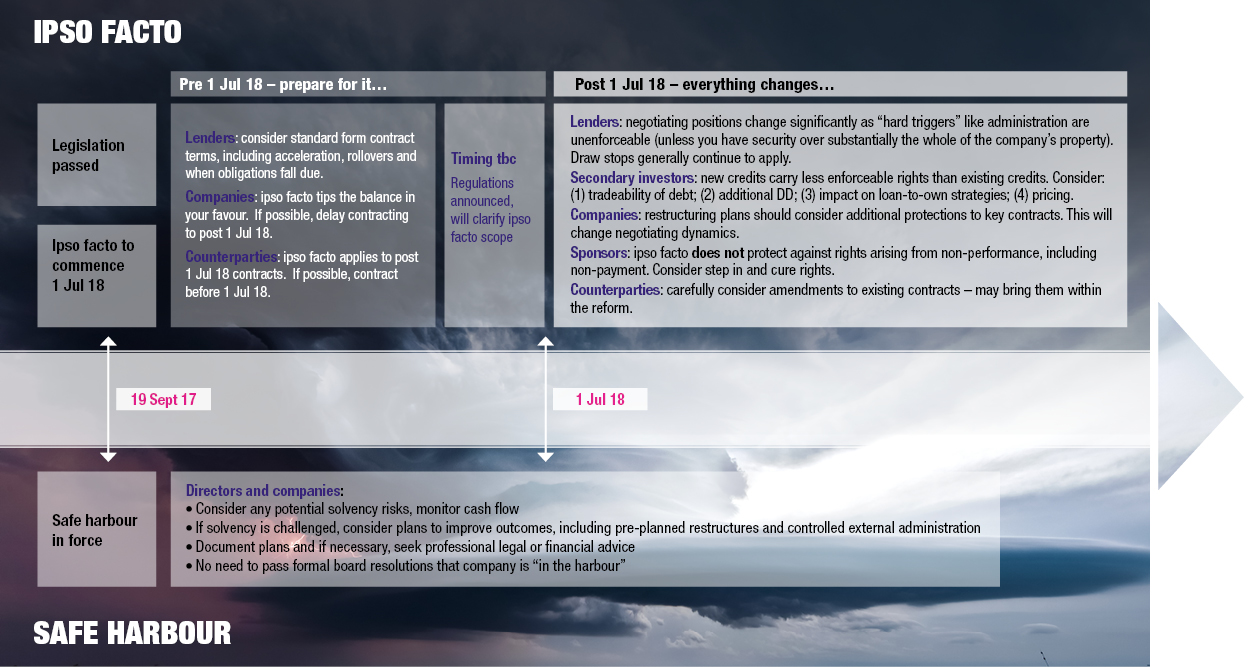 (Please click on the image above to see a full-size version)
Key things to watch for in the ipso facto regulations:
Carve outs will be confirmed, categories are expected to expand. Currently expected to apply to certain financial contracts including ISDAs, aircraft leasing and financing, underwriting and software licencing arrangements.
Potential extension of the stay to pre-appointment events.
Clarifications on the scope of the broad anti-avoidance provisions.