This article was written by Scott Farrell.[1]
A remarkable amount of work has been done in both the private and public sector to get Australia started on its Open Banking journey.  However, we are not there yet and its legal foundation, Australia's Consumer Data Right, is still to become law.  It is a good time to check in on how far we have come, where we are now, where we are going and, for those new to the journey, what this is all about.
What is this about?
If you have only recently come to Open Banking in Australia, this is the way it is summarised in the Australian Government's Open Banking Review: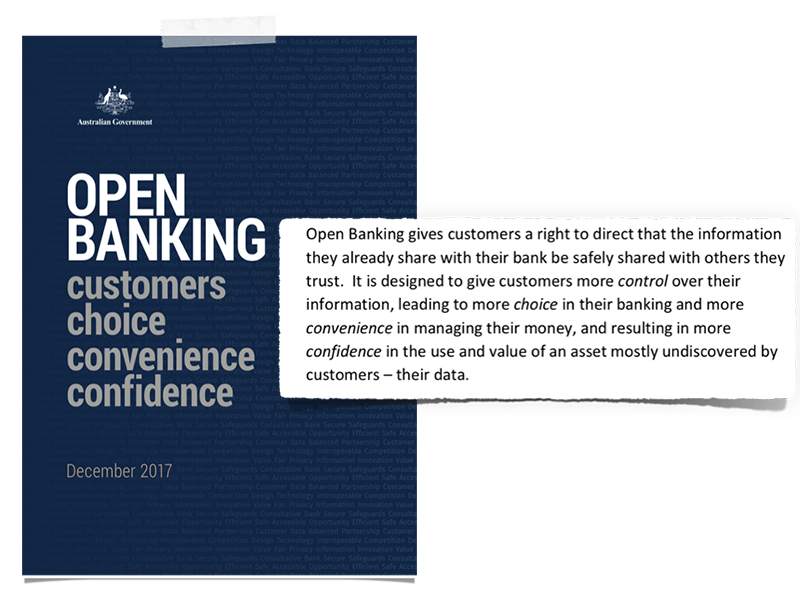 Open Banking is the first part of the Consumer Data Right in Australia, a more general right being created for consumers to control their data, including who can have it and who can use it.  More sectors of the economy (including energy and telecommunications sectors) are to follow and Open Banking is to work together with them to form a single, broader framework.
Here are some earlier explanations prepared by KWM:
There are many complex and challenging issues in developing a framework like this.  Finding solutions for them has been a journey that Australia has been taking for some time, and before we look at where we are now it is worth seeing how we far we have come.      
How far have we come?
The Consumer Data Right is not a brand-new concept in Australia.  The thinking has been building for half a decade, increasing in development and implementation at each stage.  The path which has been taken in Australia to arrive at Open Banking is different to that followed in some other parts of the world, such as Europe, which explains why Open Banking is different in different countries.
The Murray Inquiry into our financial system in 2014 and the Harper Review into our competition policy in 2015 both recognised the role that data sharing could play and recommended that there be an improvement in individuals' ability to access their own data to inform customer choices.  The foundational piece of work into the development of the Consumer Data Right was conducted by the Productivity Commission, in its Data Availability and Use Inquiry, released in 2017.  The significant set of reforms proposed included the creation of a new economy-wide Comprehensive Right to Data to give individuals and small-to-medium businesses greater access to their data.
In 2017, this work was built on by the Open Banking Review[2] which made 50 recommendations for the implementation of Open Banking as the first part of the Consumer Data Right in Australia.  If the Productivity Commission Report is seen as the answer to the question of why Australia needs the Consumer Data Right, then the report of the Open Banking Review can be seen as the answer to the question of how it could be established.  The Australian Government agreed to the recommendations of the Open Banking Review in 2018 and the implementation stage of the journey began.
Where are we now?
There has been a considerable amount of work done in the Australian public sector in implementing Open Banking in Australia, across the three parts of its regulatory structure.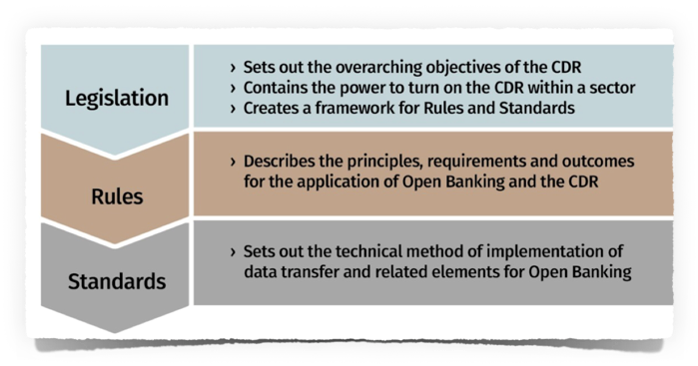 Legislation.  The Treasury Laws Amendment (Consumer Data Rights) Bill has been prepared, consulted on (twice) and introduced into Parliament.  A link to the Bill introduced into Parliament can be found here.  The Bill was referred to the Senate Economics Committee for review and its report (which recommended that the Bill be passed) can be found here.  However, as the Bill was not passed before Parliament was dissolved before the upcoming election, it will need to be re-introduced and considered again by the new Parliament, which is understood to be more likely to happen in the spring sitting at the end of the year (according to information from the Advisory Committee referred to below).
Rules.  The Australian Competition and Consumer Commission (ACCC) released draft Rules for the application of the Consumer Data Right to banking, after consulting (twice) on the development of those Rules.  A link to the current draft Rules can be found here, which are currently open for consultation.
In addition, the ACCC has commenced consultation on the application of the Consumer Data Right to the next sector of the economy after banking: the energy sector.  A link to this consultation can be found here.
To complement the last year of work in the public sector, there has been considerable preparation undertaken in the private sector.  Indeed, the Advisory Committee of the Data Standards Body described above is mostly comprised of private sector experts.  The preparatory work has been driven by the challenging timing for the commencement of Open Banking, which currently requires that the four largest Australian banks are able to respond to customer requests for the sharing of transaction data on their deposit, transaction and credit card accounts by February 2020 (more information on timing can be found here).  Although all other Australian Authorised Deposit-taking Institutions (such as other banks and credit unions) have another year before they too must comply, the current draft Rules contemplate voluntary participation before compliance is required and the ACCC has already conducted a consultation to further understand the entities that are intending to participate.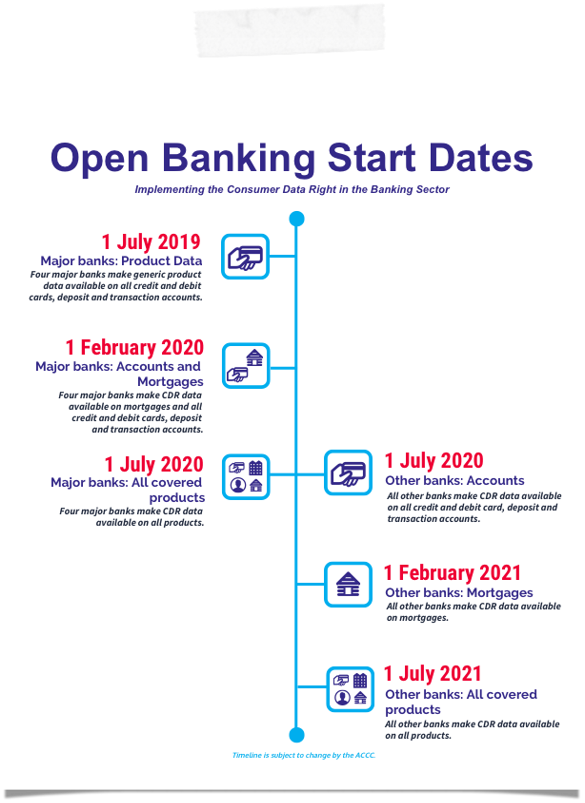 Where are we going?
Some regulatory benefits are already contemplated to be delivered by Open Banking.  For example, in its consultation paper on updating requirements for responsible lending, the Australian Securities and Investments Commission has identified that developments in Open Banking will assist licensees to efficiently confirm the financial situation of a consumer for the purpose of satisfying compliance obligations.
However, the Australian Open Banking framework is intended to do more than facilitating compliance with other obligations.  It is intended to provide choice, convenience and confidence for customers.   The ACCC has commented on the expanded potential for Open Banking in its Residential mortgage price inquiry:
"[Open Banking] will improve consumers' access to competitive offerings and new and innovative services. For instance, it will facilitate the ability to compare and switch between products and services, including residential mortgages. It will encourage competition between service providers, leading not only to better prices for consumers but also more innovative products and services."
This support of innovative products and services for customers has been one of the underlying drivers of the Open Banking journey in Australia.  The Open Banking Review emphasised that: "Open Banking should create opportunities.  It should provide a framework on which new ideas and business can emerge and grow, establishing a vibrant and creative data industry."  Important aspects of the Australian Open Banking framework, such as reciprocity, risk-based accreditation and sharing data across sectors, were designed to facilitate this.  Further, a safe and efficient data sharing framework could greatly assist the development of Australia's data economy by facilitating critical elements such as consistent methods of digital identification, proper management of data eco-system risks and appropriate frameworks for valuation of the use of data.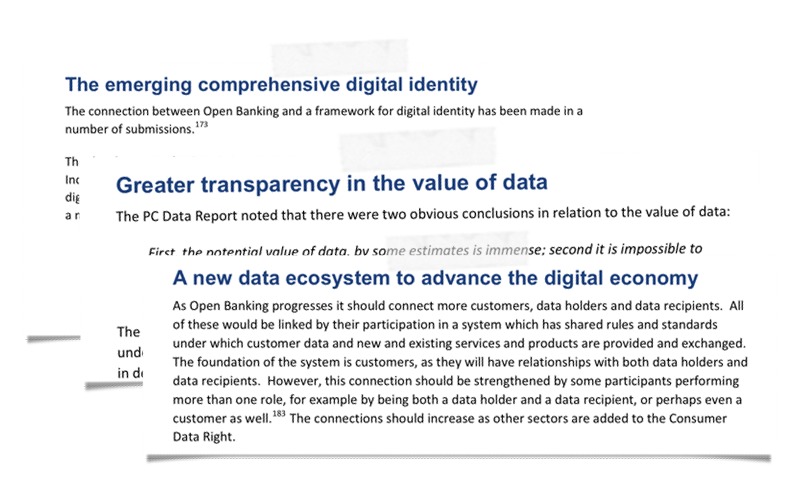 It is becoming apparent that the new services, new products and new skills inspired by Open Banking which benefit customers are likely to be in demand not only in Australia but also overseas.  Australia is not travelling alone on this path.  The United Kingdom has already commenced Open Banking for nine of its banks, and the European Payment Systems Directive 2 (PSD2) also requires data sharing.  Further, the Canadian Government has commenced its own review into Open Banking, which is due to report later this year (a link to its consultation paper can be found here).   A number of other jurisdictions, such as India, Singapore and Hong Kong have initiated voluntary regimes and others, such as New Zealand, are considering it.  The pace of these developments overseas, both near and far, shows that the potential for Open Banking in the context of the emerging data economy is already understood beyond our shores.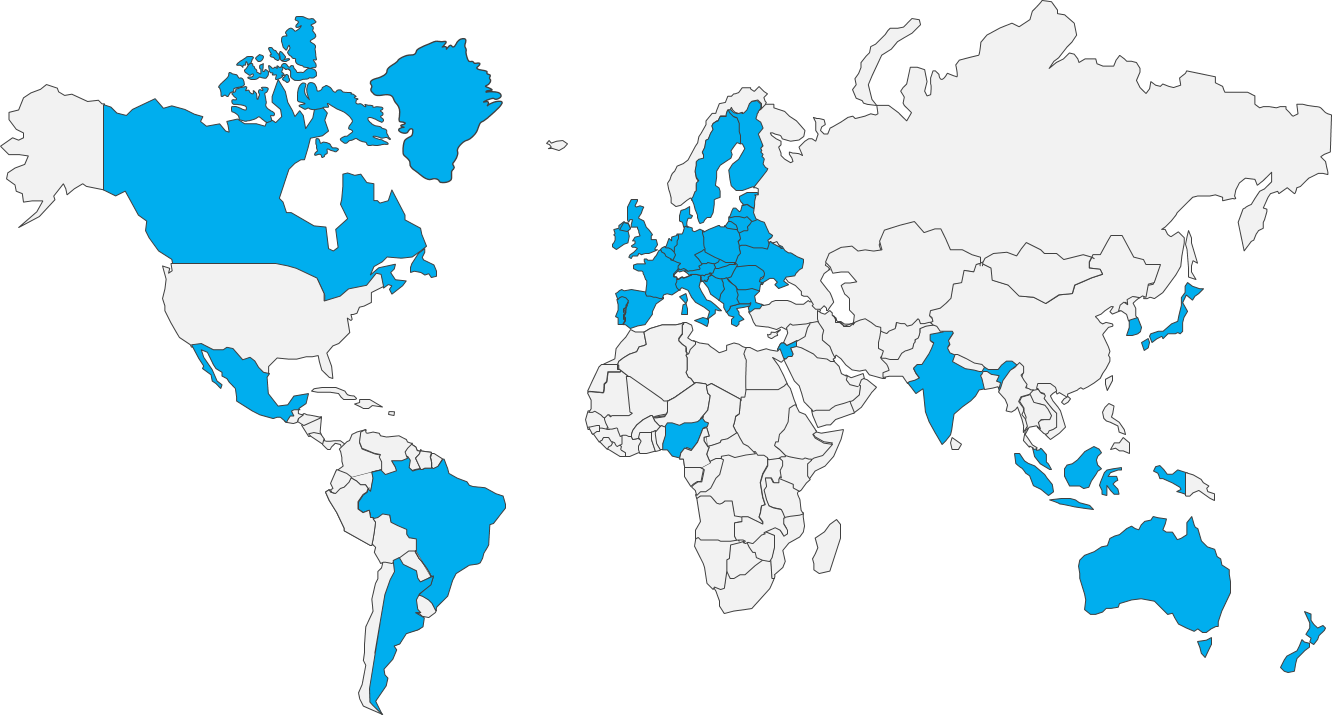 Are we there yet?
Work in Open Banking has grown beyond the compliance requirements of those who must meet the first deadline.  It has transitioned to developing the strategic opportunities that the Consumer Data Right brings to competition and innovation for the benefit of Australian customers.  Important lessons have already been learned, such as staying keenly customer-focussed, shifting perspective from a banking footprint to a data economy footprint, and seeking new partnerships to develop the data eco-system.  Traveling fast on this journey does not mean travelling alone.  Australian businesses, in banking and beyond, are already engaging with the data economy to work out what they need to do to be ready for when Open Banking starts, and to not be left behind.
We are not there yet and there is further to travel on the Australian Open Banking journey.  But much ground has been covered and much has already been discovered of the benefits for Australian businesses and their customers. There is so much more to come.
---
[1] The author led the Australian Government's Review into Open Banking.  However, this article is written by the author solely in his capacity as a partner of King & Wood Mallesons.
[2] For consistency with the other references, this is sometimes referred to as the "Farrell Review".