This article was written by Scott Bouvier and Lauren D'Ambrosio.
.
Australia's leading food technologists recently gathered for their annual conference to discuss the future of food, and the challenges and innovations surrounding it. We were delighted to participate in the conference and to bring you our perspective on the key takeaways from the conference around food security, the use of data, changing consumer demands and food fraud.

The Australian Institute of Food Science and Technology (AIFST) is the national network for Australia's food industry professionals, representing those working in food science, food technology, engineering, new product development, innovation, regulatory, quality assurance, nutrition, microbiology and food safety. The conference theme was "Innovate and Excite: Acting today to advance tomorrow" and featured presentations by food businesses, market researchers, food scientists, technology experts, nutritionists and regulators.
Key takeaways 
Artificial intelligence ("AI"), data markets and collaboration provide us with an opportunity to increase efficiencies and develop solutions which address the challenges facing the food and agricultural sector.
The regulatory environment needs to balance risk minimisation and consumer protection so that overregulation is not stifling innovation.
New protein sources and other interesting sustainable food innovations are being developed to address food security issues and there may be future clashes between intellectual property rights and food security needs. 
The key themes and takeaways for lawyers and businesses in the food industry include:
Advancing the food industry with artificial intelligence
Using AI and massive amounts of data, we have the opportunity to increase efficiencies for the food and agricultural sector, provide focussed solutions to consumer problems and reduce the cost of compliance with food safety laws.

It is worth considering the "circle of data":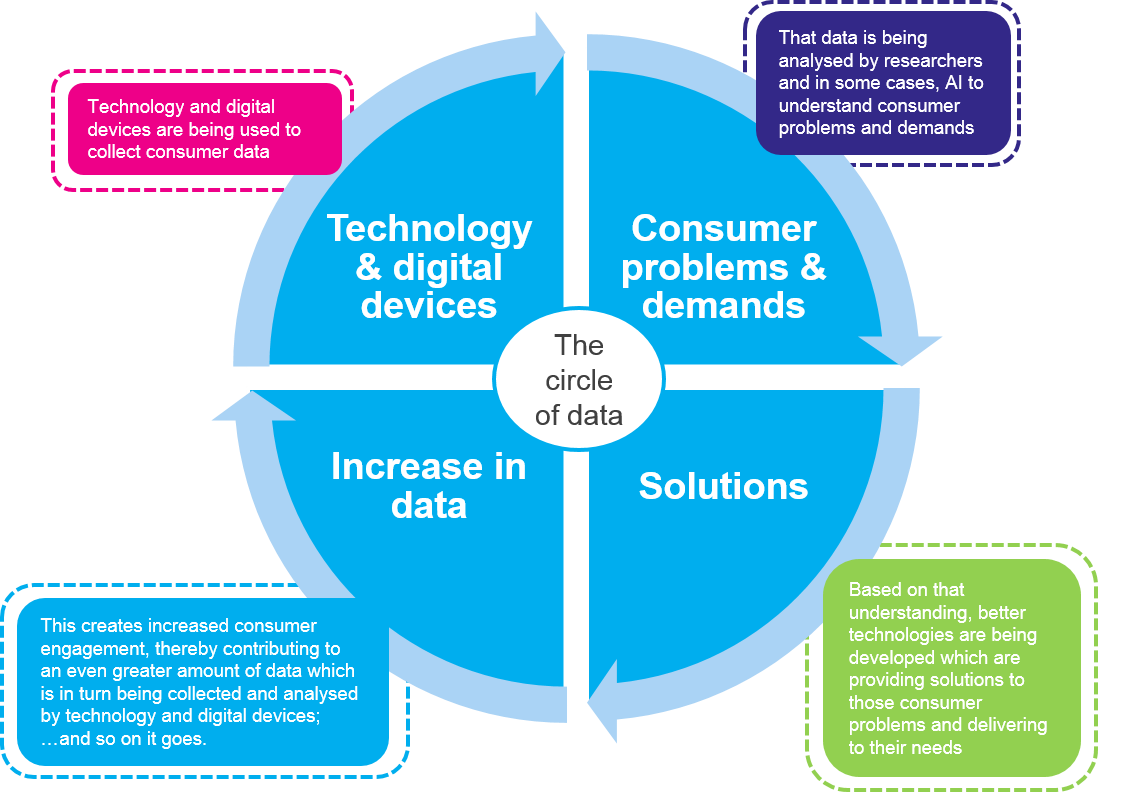 We heard from Ros Harvey, the Managing Director of The Yield which uses AI to help farmers and primary industry to make more informed decisions that increase yield, reduce waste and reduce the risks associated with weather conditions by sensing, analysing and predicting on-farm growing conditions. Ros spoke about the importance of cross-collaboration between consumers, private sector, government and researchers to collect and analyse data with the overall goal of providing solutions which increase efficiencies across the food chain and aid environmental sustainability. There is an increased incentive to share. If we embrace a collaborative mindset, open approach to innovation and diversity, we will all benefit.

The regulatory and commercial challenge is to create a better data environment which encourages collaboration so that the benefits of AI can be realised to deliver actual benefits the industry and consumers. Businesses and governments should be seeking to create "data markets" and designing models to take advantage of them.
Food Security
A question the food industry is asking itself is, "How will the world feed 9 billion people by 2050?". We will need to produce more food in the next 30 years than we have in the last 200. At the same time, we are experiencing unprecedented resource constraints and climate change.
In addition to the use of data driven technologies, other innovations and technology are being developed to address issues associated with population growth and urbanisation.

We are seeing:
New protein sources based on plants, algae and insects being developed to reduce meat consumption and lessen reliance of livestock;
Bioengineering being used to improve crops and create "real meat" and dairy without using land and relying on livestock;
Aeroponics systems delivering vertical farming systems to grow plants in urban environments without the use of soil; and
Food waste being upcycled into new consumer products (e.g. soy milk by-products being used to make flour).
Major industry players are investing in their disruptors and are looking to become part of the revolution which will be required to address the threats to food security. While industry looks to increase how much we produce and reduce how much we waste, consumers need to be open to embracing protein alternatives and other technological solutions being developed to combat the world's food and water shortages.

The question for regulators and lawyers is how to encourage innovation while balancing safety concerns and consumer protection. To a certain extent the fate of innovations should be determined by market forces and consumer preferences. Do we have the right balance in Australia or is overregulation stifling innovation? Do our food safety laws focus too much on the process and not enough on the end product? For example, if meat can be grown from animal cells in a laboratory without the slaughter of animals, does it matter what process was used to produce it if the end product is safe and equivalent in substance to meat from an animal carcass? Food Standards Australia New Zealand is currently reviewing and continuing to develop a framework for regulating nutritive substances and novel foods. Our regulations need to be agile to allow for new protein sources and other food product developments to enter the market.

From an intellectual property perspective, there needs to be a balance between encouraging innovation and equitable access. Some of the inequity risks will be managed by the increasing trend towards socially responsible licensing practices. In addition in Australia, the recent Bill to repeal the exemption of IP licences from certain competition laws (s51(3) of the Competition and Consumer Act 2010 (Cth)) may play a small part in ensuring that reasonable access is maintained for blockbuster foods. However, we expect that more will need to be done and there is a real opportunity for multinational food companies to increasingly lead the way as part of their corporate social responsibility programs.
Food fraud risks
Fraud can be described as gaining a financial advantage or causing a financial disadvantage through deception or dishonesty. In the food context, it is understood to be the deliberate and intentional substitution, addition, tampering or misrepresentation of food, ingredients and packaging for economic gain.

Practically speaking, it can involve:
adulteration - e.g. adding rice syrups and other sweeteners to honey;
dilution - e.g. diluting orange juice with water;
copying - e.g. counterfeit wine;
tampering - e.g. putting needles in strawberries; and 
claiming false provenance - e.g. mislabelling food as "organic" or Made in Australia.
During the conference session covering food fraud, the presenters discussed the major public health risks, economic impacts and reputational damage which results when food fraud appears. It was said that where a profit can be made and the opportunity exists, food fraud will occur. 
A multi-pronged approach is required to address the risk at each point in the supply chain. For example, manufacturers should conduct a raw materials assessment which involves a consideration of the likelihood of fraud occurring, the detectability of food fraud and the likely profitability for fraudsters. Conference participants heard from Andrea Currie from Coles who spoke about the retailer's approach to managing fraud in supply chains. What is required is transparency and traceability back to the source/farm. Andrea gave the example of "sow stall free" pork, a claim which can only be substantiated by tracing back through the supply chain to the farm because there is no test for this.

Government regulators also have a role to play in reducing food fraud to protect consumers and "Brand Australia" because the safety of our food is paramount to both. Given the honey adulteration concerns shown by the Australian public, and the potential for food fraud to disrupt food and agricultural markets, the ACCC should make it a priority for 2019.
Changing consumer demands
Each generation in Australia places importance on different product attributes:

Baby Boomers want wellness and are less concerned about sustainability;
Millennials want wellness, sustainability and connectivity;
Gen Z are highly connected and will forfeit convenience for personalisation.
These attributes are different again when considering these generations in China and other countries.
These consumer demands are manifesting in the food industry which is seeing a trend towards health foods, the rise of veganism and flexitarians and hunger for authenticity. At the intersection of population health and food science, data and technologies are being used to deliver personalised nutrition and new foods. Blockchain technology is being used to trace the source of food products and provide providence assurance to consumers who want to know where their food is coming from. In addition, the focus on gene technology is changing – where genetically modified food crops traditionally targeted herbicide tolerance and insect resistance to benefit the farmers, now genetic modification and gene editing technologies are focussing more on the benefits that could be delivered to the consumer (e.g. more nutrient-dense, higher fibre and lower sugar foods).
Again regulators and lawyers have a role to play in allowing genetically modified and novel foods to flourish in an open market while also protecting consumers by ensuring safety, accurate and fair food labelling and product claims.

We hope you are hungry for new developments because we have some exciting times ahead of us as lawyers and consumers of food.