The Agri Investor Australia Forum 2017 was held in Melbourne last week, with M&A partner and agri specialist Heath Lewis moderating a panel discussion on "The Rise of the Inbound and Strategic Investor".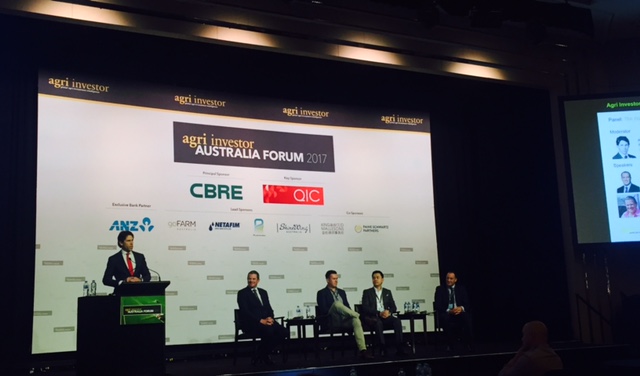 Here are the 5 key forum takeaways:
1. Now is a good time to invest, as a general proposition… 
By now we can all recite by heart the macro thematics underpinning trade and encouraging investment in Australian food and agribusiness – demand for clean, green and safe food products from a burgeoning Asian middle class that is developing a taste and aspiration for our (often) premium-priced produce, supported by geographic proximity and free trade agreements.
Rising asset values in some sectors validate, in a self-perpetuating sort of way, the theory of the positive thematics.
However, there are certainly some sub-sectors, or parts of the value chain within a sub-sector, that are not rising on the tide of positivity, or where astute investors believe better value will be delivered as the cycle turns.
Contrarian investors reminded the audience that counter-cyclical investments are or will become available in different parts of the supply chain, while others see value and opportunities arising from technological disruption and potentially regulatory change.
2. Now is a good time to seek investment… 
The forum emphasised the broad range of investors looking to deploy capital in the food and agri sector. The Australian super funds were out in force (see commentary below), onshore and offshore institutional investors with genuine track records were prominent (eg. QIC), private equity (both in the sense of PE funds such as Paine Schwartz Partners, and non-public, non-institutional private money) was present, and family offices well-represented (eg. Colindale).
It's not just about what that represents in terms of the quantum of capital looking for exposure to the industry. It's also about the diversity of risk appetites, investment strategies and return expectation profiles represented, which improves the prospects of finding an investor suited to a particular agri business.
In addition, it's not just about financial returns for all investors, albeit that obviously cannot be ignored. Some family offices and institutional investors are focussed on "impact" investing (investments generating beneficial environmental or social outcomes) or prioritise "ESG" outcomes (environment, social, governance), while others emphasise preservation of capital above all else.
Whatever the commodity, service or product and wherever it may sit on the value chain, it is more likely now than ever before in the history of Australian food and agri for an investor to be able to identify a suitable investment opportunity.
3. Investment structures to meet strategic objectives… 
With a diversity of investors comes a diversity of investment strategies and objectives, and a need to design investment structures to deliver on the investment thesis. Sophisticated investors are focussed on gaining the desired degree of exposure to the desired asset class, commodity or theme.
Transaction and investment structures are available to align with objectives.
The structure du jour for real asset-backed agri businesses is the sale and lease back arrangement (or the buy and lease arrangement, depending on your perspective). In these cases, the business is bifurcated into ownership of the underlying real asset (bringing with it a steady and certain revenue stream and exposure to land values) and operatorship of the business (delivering the benefit of business improvements, but also exposure to risks such as weather events, commodity pricing, market dynamics etc).
Consolidated Pastoral's sale and lease back of Carlton Hill to Kimberley Agricultural Investment Pty Ltd, and a program of such transactions by poultry producer Inghams are high profile examples, with CBRE identifying plenty of other recent examples across the country during a forum session.
These sorts of structures can facilitate significant value creation for Australian agribusiness, releasing capital to an operator that will re-invest in productivity enhancements or market development, and helping to ensure land is put to its highest value use.
These structures can also facilitate investment into agri by those investors seeking a lower risk profile than might traditionally be associated with agriculture.
4. Australian super funds – mixed messages about investing in agri… 
Many Australian super funds were represented at the forum (in addition to their more agri-experienced North American cousins), but it was difficult to assess the level of genuine appetite to deploy capital in the industry.
An observer might be encouraged to believe that now is a good time for Australian super funds to be investing, particularly as certain traditional asset classes (infrastructure and real estate) have become "expensive", and that structures can be designed to accommodate the risk and return objectives of Australian super funds. Nevertheless, the impediments for Australian super funds were readily recounted, including lack of Australian opportunities of sufficient scale, too much risk for a return that can be achieved more readily in other asset classes such as infrastructure, challenges with alignment between a conventional asset class approach and the sometimes unwieldy or uncertain nature of agri investing, structural imperatives (eg portability of super accounts) driving a need for liquidity that long term agri and commodity cycles don't readily accommodate etc.
The recently Industry Super Australia discussion paper is required reading in this regard.
5. FIRB – nothing new, but a useful reminder… 
An interview with Foreign Investment Review Board member, Patrick Secker yielded, unsurprisingly, little controversy.
It did offer some encouragement to offshore investors however, going beyond the standard opening assertion that Australia needs and supports foreign investment. Mr Secker commented to the effect that the national interest test is readily supported (not satisfied given the intentionally mercurial nature of the test, but supported) by acquisitions that deploy capital on technology adoption and enhancements, promote employment opportunities and support ongoing investment and productivity / capacity expansion generally.
A useful reminder to be sure to activate these front-of-mind issues in applications for FIRB approval.